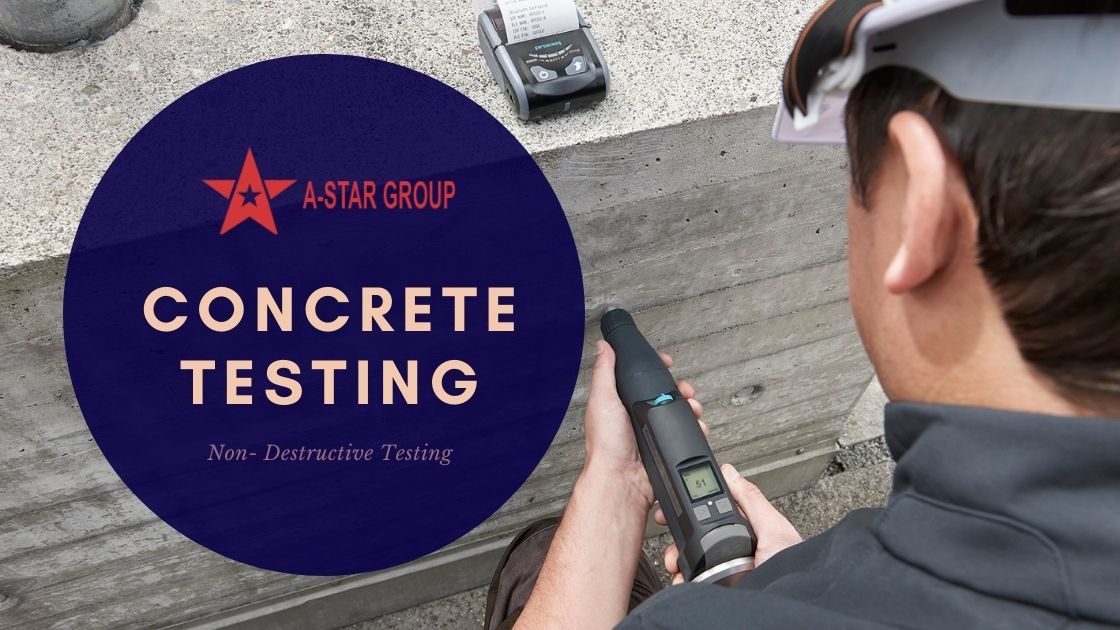 Why Non Destructive Testing of Concrete
In-place 
testing 
of 
hardened 
concrete 
is 
also 
required
to 
assess 
a 
structure's 
suitability 
for 
its 
intended 
use. 
Non-destructive
testing 
techniques 
are 
used 
by 
measuring 
the 
strength 
and 
other 
properties
such 
as 
steel 
corrosion, 
permeability, 
cracking, 
and 
void 
structure 
to 
assess 
concrete 
properties. 
For 
the 
assessment 
of 
both 
new 
and 
old 
systems, 
this 
form 
of 
testing
is 
significant. 
The 
key 
applications 
for 
new 
architectures 
are 
primarily 
used 
to 
assess 
mate 
efficiency.
The Benefits of Non-Destructive Testing
Non-destructive testing can also be used as an initial step to subsequent coring and more invasive measures such as:
Gauging characteristics of pre-cast, cast-in-place, or in-situ construction
Determining the acceptability of supplied material and components
Locating and categorizing cracks, voids, honeycombing, and other defects in a concrete structure
Determining the concrete uniformity prior to core cutting, load testing, or other more expensive or disruptive tests
Monitoring strength development related to formwork removal, cessation of curing, and load application
Determining the position, quantity, or condition of reinforcement
Confirming or locating suspected deterioration of concrete resulting from such factors as overloading, fatigue, external or internal chemical attack or change, fire, explosion, environmental effects
Assessing the potential durability of concrete while monitoring long-term changes in properties
The Methods of Concrete Testing
Ultrasonic pulse velocity (UPV) test that provides crucial information about the integrity of the concrete structure and is typically used to identify the presence of voiding, cracking, honeycombing and sound concrete.
Rebound hammer that measures the "Q value'' at the in-situ concrete surface which is then converted via a calibration curve to determine the indicative concrete strength about the concrete surface.
Ground Penetrating Radar (GPR) that is used over large areas of concrete to map the internal steel reinforcement, identify voiding and/or quantify the likelihood of corrosion to the internal steel reinforcement.
Ultrasonic Array Pulse equipment that can detect and locate defects in reinforced concrete such as honeycombing, voiding and the depth and extent of concrete delamination. This equipment is also used for the detection of embedment's such as pipes, tendon ducts beneath a layer of rebar.
Selecting of the test method
Rebound hammer, penetration resistance, pull out and ultrasonic methods can be used to estimate concrete strength. So far no NDT methods can give the best estimation. However the popular combination for strength estimation is rebound hammer and ultrasonic testing. Ultrasonic is among the widest applications. It can be used for estimation of strength, elastic modulus, thickness and crack depth using conventional ultrasonic pulse velocity (UPV) method. Using advanced ultrasonic method such as multi array transducer, it can detect void, honeycomb, lamination and bar location. Ultrasonic is the only
NDT method for crack depth measurement.
EMAIL TO US
Send an e-mail to enquiry@astargroup.com
GET A QUOTE
We will follow up with you.